Icecream Screen Recorder Review [2023 Updated]
Download Screen Recorder For FREE!
You may have heard about Icecream Screen Recorder when you need to record your desktop screen using third-party software. As a powerful recording tool, Icecream Screen Recorder has provided its professional screen capture function to help people record gameplay, streaming videos, tutorials, online meetings, and so on with very simple operations. But for new users, you may want to know more about it before getting started. So this full review of Icecream Screen Recorder will introduce the software from all aspects before you decide to use it or not. Now, start with the overview of Icecream Screen Recorder.
What Can Icecream Screen Recorder Do?
As a professional screen recording software, Icecream Screen Recorder provides the powerful ability to help Windows and Mac users to record different screen activities, such as meetings, video calls, tutorials, live streams, and so on with many advanced features. Users can do the recording settings like adjusting the area selection, setting volume, and choosing output format/quality as they need, to create high-quality recording outputs.
It is noted that Icecream Screen Recorder will only take 11.6MB to install on Mac, meaning that the software could run quite smoothly without lagging to create a user-friendly recording experience for you. Also, all functions provided in Icecream Screen Recorder will be very simple to use. Even if you haven't tried it before, you will find the software simple to get started with, and the quality of the recording outputs can also be greatly ensured.
Icecream Screen Recorder: Features & Advantages
Surely, as a popular screen recorder selected by so many people, Icecream Screen Recorder has its outstanding features you should not miss. In the following, there are some concluded advantages that the software can bring to help you have a better screen recording experience when you need it. Have a look.
Offers different modes to record the screen: From the left menu provided in Icecream Screen Recorder, you will find different recording modes available for you to record the screen in the way you like. Simply select the function based on your need to start a simple screen recording on devices as freely as you want.
Customized recording area: Icecream Screen Recorder allows you to decide where to record flexibly. You can choose to capture the whole screen or just choose a certain area to record, making the screen recording easier and more convenient.
Supports adding annotations while recording: For having online lessons or meetings, you may need to add notes to the recordings instantly. In Icecream Screen Recorder, the drawing function is provided for you to freely annotate and edit the recordings even though the recording is processing.
Provides easy editing functions to edit recordings: There are also some simple editing features such as trimming, muting, changing speed, and so on provided to let you easily edit the recordings before saving them offline. In this way, you can create recorded videos/audio in better ways as you like.
Offers scheduled recording mode to auto-recording the screen: If you don't want to manually control the recording process, Icecream Screen Recorder also provides the scheduled recording mode to free you from controlling the process all the time. Simply by setting the beginning and ending timing, the recording will automatically be completed for you.
Adds watermarks to protect the recordings: The watermark-adding feature is also an advantage that many people like Icecream Screen Recorder. When you have created the recordings in the software, you can edit a watermark logo to them to claim ownership, which can be an important feature if you want to later share the recordings with others but worry about being copied without your permission.
Except for these mentioned advantages, Icecream Screen Recorder may still contain more features that are waiting for you to explore. It is also noted that the software provides a free trial version for you to record the screen without cost for the first time trying. So you can freely install it and try the function to see if Icecream Screen Recorder is what you need.
Although Icecream Screen Recorder has provided many outstanding advantages to make the screen recording professional and simple, it still contains some limitations that may cause inconvenience to some of you. Before selecting to use the software, you should carefully consider them.
When Icecream Screen Recorder offers Windows, Mac, and Android versions, iOS users are still not able to use it because it is lacking in an iOS version;
Watermarks will be added to the recordings if you are not using its upgraded version;
Highly customizable parameters – from the recording area selection, and volume adjustment, to the output quality settings (up to 4K), you can freely determine them in Preferences.
Some users have reported that there will be some audio problems while doing simple video editing in the software;
Although the software provides some popular formats to save the recordings, you can't edit the quality as you want freely.
The Best Alternative to Icecream Screen Recorder
If you can't tolerate the disadvantages of Icecream Screen Recorder and want an alternative to replace it, consider VideoSolo Screen Recorder here.
Firstly, as a screen recorder also with a free version provided, VideoSolo Screen Recorder will not add watermarks to any of the recordings like Icecream will do. Also, the software will provide more output settings, including the video/audio codec and quality selections to let you freely decide the output quality for all your recordings.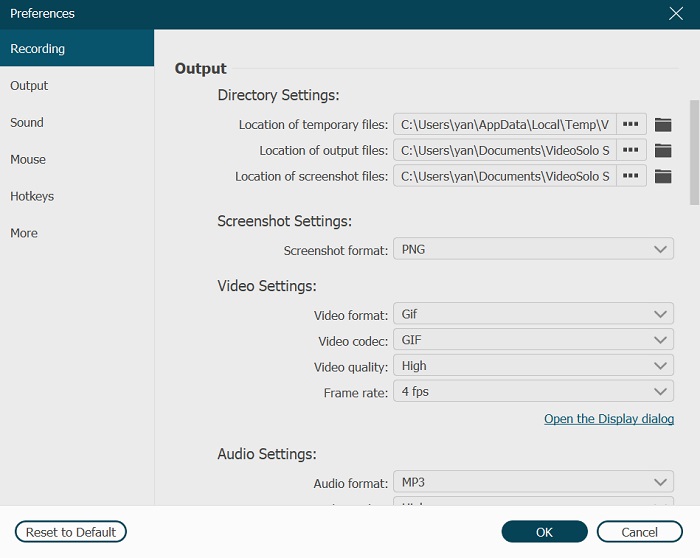 More importantly, VideoSolo Screen Recorder offers a powerful audio recording function, with a noise cancellation mode and enhancement feature, which can defeat the poor performance brought by Icecream Screen Recorder. As a result, if you care much about the cons of Icecream, VideoSolo Screen Recorder will be the best tool you can take as an alternative to doing more professional recording on computers.

Icecream Screen Recorder has offered great screen recording functions to help many of you process the screen recording easily on Windows, Mac, and even Android devices. But still, it has some shortcomings that may cause inconvenience. To overcome them, selecting a perfect alternative will be the best help, and now you get VideoSolo Screen Recorder. Now, simply choose the one you like and get a professional experience of recording on your computer screens!