8 Best No-lag Screen Recorders for Windows & Mac [2023]
Download Screen Recorder For FREE!
A no-lag recording process can definitely be beneficial to export recorded videos of better quality and smoother streaming experience. Consider when you need to create videos from these recording materials but only get some lagging outputs of low quality – surely you would try to avoid it!
Therefore, the post has listed 8 recommended no-lag screen recorders for Windows/Mac to deliver a friendly recording experience and ensure smoother outputs of decent definitions. Please dive in reading now.
VideoSolo Screen Recorder is a top-ranking no lag screen recorder for Windows and Mac. With optimal recording modes, advanced features, and acceleration techniques equipped, you can definitely enjoy the best no-lag experience and get perfect outputs utilizing the program. Install it for free and try it now!
Why Do Screen Recorders Lag?
First, for better targeting the most appropriate no-lag program to record screen, you will probably evaluate the causes leading to a lagging recording. When there are numerous tests run and data collected, it can be easily concluded that the fundamental reason causing screen recorders to lag on desktops should be CPU consumption.
How CPU Consumption Causes Screen Recorders Lagging?
Unlike computer programming, although screen recording seems like a simple thing to proceed with, it is actually CPU-intensive and will consume a high CPU especially when you have to process multiple tasks recording (such as video recording with both system sounds and microphone turned on).
When the CPU of your computer reaches high occupation, other performance of the device will be dragged down, which leads to the unexpected lagging recording situation.
Therefore, to maintain the no-lag screen recording process, most users would select to sacrifice the recording quality or turn off other running programs in the background. But actually, the issue can be perfectly fixed if you take an alternative lightweight no-lag screen recorder!
In the following, concentrate on the review and take the best program to proceed with the no-lag screen recording process!
8 No Lag Screen Recorders for Windows & Mac
Actually, when the no-lag screen recording experience has become an essential standard for many people while selecting a screen recorder, many programs have enhanced the performance to provide a no-lag recording process. Among many launched screen recording software for Windows/Mac, there are the best 5 of them ranked in follow. In the top 1 place, VideoSolo Screen Recorder does provide the best experience. Scroll down and read with details in no time.
1. VideoSolo Screen Recorder
As the best no-lag screen recorder today, VideoSolo Screen Recorder has done a lot to maintain screen capturing smoothly by reducing the CPU consumption from different aspects. From the UI design, the program has omitted unnecessary elements and directly focuses on the essential features to shape its advanced recording ability. Unlike many other bulky apps, VideoSolo Screen Recorder can function lightly, greatly reducing CPU consumption and even taking multi-task recording at once.
Furthermore, this best screen recording software also adds the Hardware Acceleration function in its Preferences settings menu to speed up CPU performance, in that avoid the lagging situation from appearing by default. Currently, there are a large number of users who have utilized VideoSolo Screen Recorder to screen record high-definition gameplay or streaming videos, and almost no one has reported the lagging experience anymore!
Despite the no-lag experience, VideoSolo Screen Recorder is also equipped with other sparkling features to facilitate better screen recording experience on Windows/Mac to be more user-friendly. Let me introduce some of them explicitly to you:
Flexible recording modes – as there are multiple recording modes provided, you can flexibly determine the recording patterns to record different screen activities as you wish.

High-definition outputs – to guarantee nice recording playback, the program will retain HD quality to help you capture the screen in the same definitions as the originals, making the recording outputs with ideal visual effects.

A batch of smart features – the program also offers optimal smart features to you. You will get user-friendly experience by enabling some practical features such as the scheduled recording, lock-window mode, auto-stop recording, etc to facilitate the recording process.

Annotations adding – while processing the video recording, it is possible for you to add texts and annotations instantly.

Advance trimmer – an advanced trimmer has been added to help you easily adjust the recording length and trim unnecessary parts off.

Watermark customization – the program will not insert watermarks into your recordings even during the free trial period. It also supports a free watermark customization feature to enable editing the watermarks in preferences.
Compatibility: It's available for Windows 11/10/8/7/Vista/XP/Mac OS X 10.7 or above
Price: Starting at $14.95 and lifetime for $69.95
It is also noted that VideoSolo Screen Recorder offers a free trial version for you to experience the no-lag recording process. Feel attracted by the program? Take this free screen recorder without watermark and install it in no time.
2. Icecream Screen Recorder
Icecream Screen Recorder is an easy-to-use free screen recording software that enables you to record any area of your screen or save it as a screenshot without lagging. You can not only record apps, games, video tutorials, webinars, live streams, and Skype calls but also edit them with the video editor tool as you like.
With multiple recording modes provided, you can record screen along with audio and webcam. Furthermore, it also allows you to copy screen recordings and screenshots to the clipboard to share them via Skype instantly. As a reliable no-lag screen recorder, Icecream Screen Recorder will not take up much CPU consumption and offers you smooth recording manipulation without any lag.
Pros:
Advanced editing options
You can set multiple screen capture tasks on a timer
Using hotkeys during screen recording
Cons:
Not all features are available in the free trial version
Limited formats and video codecs available
Compatibility: It's available for Windows, Mac and Android
Price: $30 for one time fee
BB FlashBack Express Recorder is an extraordinary no-lag screen recorder with functions to capture screen activities smoothly. It enables you to record your desktop, websites, video call and anything on your PC screen, along with webcam and mic. Also equipped with video editing tools (most editing functions are only supported for premium), you can make clips and refine footage, giving a favor in making tutorials, demos, marketing videos to video presentation. 
Once the recordings are over, you can also share them in multiple formats or upload straight to YouTube in no time, making video sharing a pretty simple task.
Pros:
More features than others in the free version
Easy to use and affordable
You can remove the watermark in the paid version
Cons:
Limited formats and video codecs available
Mac is not available
Compatibility: It's available for Windows
Price: $45 for 1-PC license
Bandicam is also an easy-to-use no-lag screen recording software that enables you to capture everything you want on your screen. You can record lectures, webinars, games, and Skype calls with the option to add narration from your microphone and video from your webcam, and share on YouTube or Vimeo. It is also a low-end PC screen recorder that help you do screen recording activities without slow down the PC's speed.
Just like other no-lag reorders, you can conveniently record system audio and your voice with Bandicam and it requires no complicated operations. Other features such as task schedule and chroma key will also let you record the PC screen much flexibly.
Pros:
It can operate continuously (24/7) to record and save long-term work
Schedule recording
Capture up to 480 fps video
Cons:
10-mintute recording limit and watermark in free trial
Not available for Mac
Compatibility: It's available for Windows
Price: $39.95 for 1-PC license
Don't miss Screenrec, another free and powerful no-lag screen recorder providing sparking features to help you capture desktop screens with smooth experience. This lag-free screen recorder only takes up little storage and is suitable for recording screen for low-end PC, all the recordings are stored in small size and can be imported as popular MP4 video format. You can save your recordings locally or the provided free private cloud storage. Another big advantage of it is that your content in Screenrec is encrypted and you can control who has access-share with the world or just your team. If you value privacy, Screenrec can be a perfect choice.
Pros:
You can add comments and highlight important parts of your screenshot
It can analyze who watch your videos, when and for how long.
Tag files and add them to collections
Cons:
Video editing is not available
Not available for Mac
Compatibility: It's available for Windows and Linux
Price: Free
iTop Screen Recorder has utilized advanced hardware acceleration technology, which helps to speed up its performance and reduce CPU consumption to provide the no-lag experience in recording your screens. The program will also ensure the best 4K Ultra HD resolution to export the recordings, bringing the best recording outputs to you.
Pros:
Optimal popular formats to select
4K Ultra HD quality ensured
Acceleration technique to ensure no-lagging recording
Lightweight built-in editor equipped
Stable FPS to maintain smooth recording experience
Cons:
Only compatible with Windows 11/10/8/7 systems
Compatibility: Windows 11/10/8/7
Price: Start at $19.99 for monthly subscription
7. AceThinker Screen Grabber Pro
Also consider AceThinker Screen Grabber Pro if you are seeking a no-lag screen recorder with smooth recording function provided. The flexible settings provided by the program can give you free selections on determining the recordings in the way you like, including adjusting the recording area, customizing the quality settings, or using it to capture any on-screen activities.
AceThinker Screen Grabber Pro is also equipped with an easy-to-use editor to simply customize the recordings before exporting. Even for these features, they won't consume much CPU to ensue you a no-lag experience, making it one of the best screen recorders for Windows 10/11/8.1/8/7 and also macOS computers.
Pros:
Determine recording area in preferences
Optimal recording modes to flexibly control
Scheduled recording and more advanced features equipped
Built-in editor provided
Low CPU consumption required
Cons:
The exporting definition will be compressed sometimes
Less efficient user interface
Compatibility: Windows 7/8/8.1/10/11, macOS 10.10 or higher
Price: Start at $9.95 for monthly subscription
Last but not least, if you wish a no-lag screen recorder with professional recording and editing functions, OBS Studio is the best option, which even offers all services without any charge! Although it is equipped with the most advanced features required to record screens, the simple designed and techniques utilized have developed without consuming high CPU. 
Therefore, it will retain a smooth manipulation and recording quality to capture computer screens without lagging. But with a comparatively complicated interface, it would be more suitable for professional users instead of beginners.
Pros:
Professional recording functions equipped
Built-in editing tools available
Original recording quality to ensure nice visual as well as sound effects
Smooth recording experience to record screens without lagging
Entirely free of charge
Cons:
Too complicated for beginners to get started
Compatibility: Windows, macOS, and Linux
Price: Free
How to Lag-Free Record Screen with VideoSolo Screen Recorder?
You may wonder if you have to do extra settings even if the screen recorders have provided the no-lag recording feature. Actually, this should be a default setting that a professional screen recorder needs to possess. In the following, let's take VideoSolo Screen Recorder as an example to see how to record screens without lag on desktops.
Step 1. Open Video Recorder
First, install VideoSolo Screen Recorder. From the main feed of the program, please select Video Recorder recording mode to record your desktop screen.
Step 2. Determine Recording Settings
Subsequently, you can proceed with the recording customization, for instance, selecting the recording area or adjust the volume before initiating the screen recording.
*Step 3. No Lag and Quality Settings
Please click on the Setting icon above the microphone adjustment box and enter Preferences.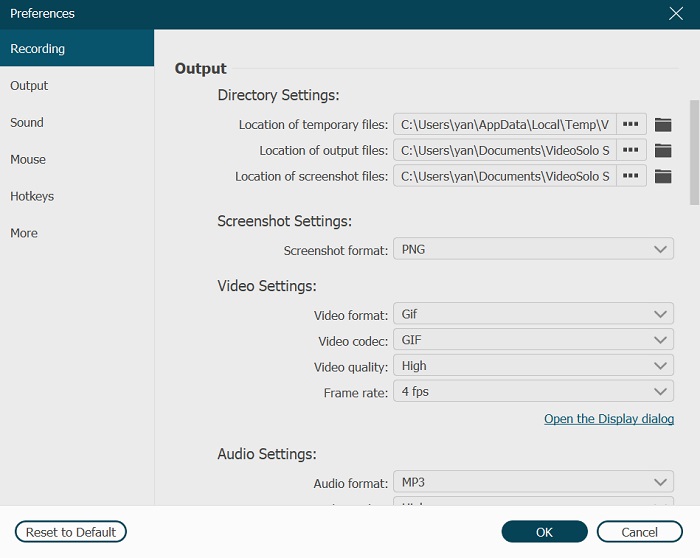 To adjust the recording export encoder, codec, and quality, please turn to the Output module.
For checking if the GPU Hardware Acceleration mode is toggled on, please open More to double-check.
Step 4. Record Screen Without Lag
When all the settings are configured, please initiate the screen recording by clicking on the REC button you begin the no-lag recording process.
Once the recording ends, you can end it and store as local video file by clicking on the Save button in the previewing window.
Sum Up with Table Comparison
As all mentioned above, there are eight type no lag screen recorders. To help you pick the best one and compare the features, we have marked a table below. You can try to download and use these tools because all of them are free or provide a free trial version. Hope you can make the last decision!
| | | | | | | | | |
| --- | --- | --- | --- | --- | --- | --- | --- | --- |
|   | | Icecream Screen Recorder | BB FlashBack Express | Bandicam | Screenrec | iTop Screen Recorder | AceThinker Video Grabber Pro | OBS Studio |
| Free trial | √ | √ | √ | √ | √ | √ | √ | √ |
| Support OS | Win/Mac | Win/Mac | Win | Win | Win/Lin | Win | Win/Mac | Win/Mac/Linux |
| Video editing | √ | √ | √ | × | × | √ | √ | √ |
| Record in HD | √ | × | √ | √ | √ | √ | X | √ |
| Annotation and highlight | √ | √ | √ | √ | √ | √ | √ | X |
| No watermark | √ | √ (Not for trial) | √ (Not for trial) | √ (Not for trial) | √ | √ | √ | √ |
| Hardware Acceleration | √ | × | √ | × | × | √ | √ | X |
| Recommendation | ★★★★★ | ★★★ | ★★★★ | ★★★ | ★★★ | ★★★★ | ★★★★ | ★★★ |