10 Best Free Screen Recorders Without Watermark [2023]

Download Screen Recorder For FREE!
Although it's very easy to get a screen recorder from the Internet to fulfill your basic recording needs, it's usually far from simple to have a good recording experience. For example, many free screen recorders add watermarks to the recordings, and you can only give in to sacrificing the recording quality unless you pay to remove them.
But this article can help you avoid such tools. In this post, we collect 10 best free screen recorders without watermark for you, which will definitely record your screen in high quality and help you with your daily recording needs. Just scroll down and pick the one you need!
VideoSolo Screen Recorder
Best for: Users want a simple way to record screens without watermarks with personalized parameter settings and flexible recording modes available.
Unlike other free screen recorder, the high-ranking VideoSolo Screen Recorder delivers watermark-free recording function to users with original definition retained to process the screen capturing. Also equipped with multiple professional recording modes, customized recording settings, and personalized output parameters, the program can assist in creating perfect recordings or even create video tutorials in preferences through very simple manipulation. By default, the program won't add any watermark to your recordings unless you wish to – it supports adding customizing watermarks in extra as you wish.
Additionally, as the best screen recording software, VideoSolo Screen Recorder is also equipped with more advanced features such as locked window recording, scheduled mode, advanced trimmer, and floating drawing panel to make your screen recording process simple but professional. For every new user, VideoSolo Screen Recorder provides a full-featured free trial that only limits recording time. Simply set it up and you can get started with the free no-watermark screen recorder on desktops.
VideoSolo Screen Recorder
High-performance and multifunctional screen recorder that records video & audio activities on your computer in high quality.
Capture any areas of your computer screen in HD quality.
Record all types of audios to MP3/AAC/M4A/WMA.
Marvelous editing features to help you record better.
Advanced recording features to fit your using habits.
Windows 11/10/8/7/Vista/XP/Mac OS X 10.7 or above
Now, grasp this brief guide to check how VideoSolo Screen Recorder works to record screen without a watermark on the desktop:
STEP 1. Once installing VideoSolo Screen Recorder, launch the software and enter "Video Recorder".

STEP 2. Preset the recording area and adjust the webcam mode, system, or microphone volume in advance.

(Optional) STEP 3. Hit the gear icon above the microphone setting box, you can enter "Preferences" to adjust the parameters or recording settings according to your requirements. You can simply use the default settings, under which the recordings will have maximum compatibility.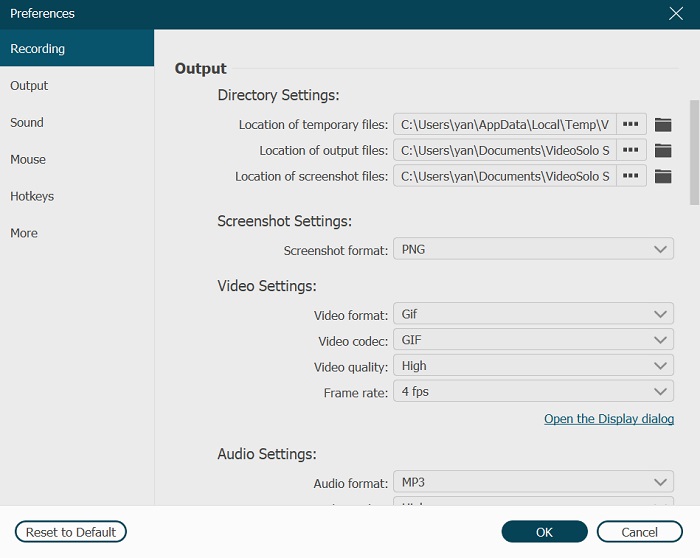 STEP 4. Now, tap the REC icon on "Video Recorder" to process the screen recording instantly. You can use the drawing panel to add text notes or annotations to the recordings at any time you need.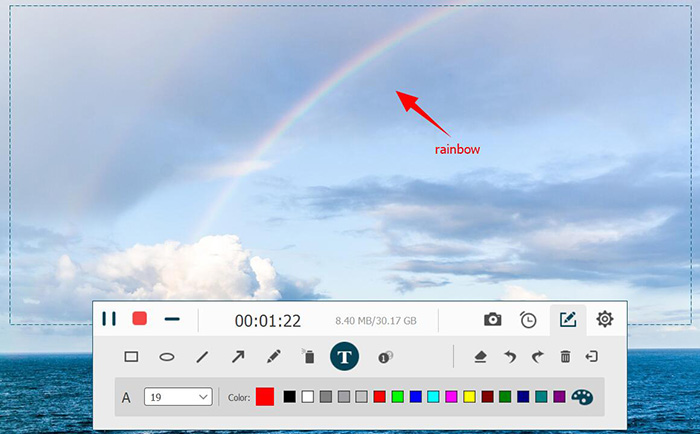 STEP 5. Once the recording ends, tap "Stop" and navigate to the previewing window. You can use the advanced trimmer to trim your recordings. Then simply hit the "Save" icon and the no-watermark recordings will be saved to your computer right away.
Best for: Mac users who wish a built-in free screen recorder with customized area selections.
For Mac users, replacing installing a third-party program, the featured QuickTime Player also delivers a hidden free screen recorder without watermark to capture the screen without paying a penny. This feature is simple to use, as you only need to create a new screen recording and customize the area selection to process the recording with the audio turned on. As QuickTime is developed by Apple's advanced technique, it is also regarded as a no log screen recorder and can function to capture your Mac screens with smooth performance.
Pros:
Built-in feature for Mac without software installation required;
Simple-to-grasp functionality;
Record screen/webcam with system sound as well as microphone;
Area selection supported to customize the recording area freely;
No time limit and is available for long-time recording.
Cons:
Only compatible with MOV outputs;
Unavailable to adjust the recording quality as you need.
Best for: Windows 10/11 users without third-party screen recorder installed.
If you are seeking a featured top free screen recorder for Windows 10 to record screen without watermarks, the Windows Game Bar is definitely the best tool. Available on Windows 10/11 computers, Windows Game Bar provides free services for users to capture the screen activities without watermarks inserted to the recordings. Developed as a game-based recorder, Windows Game Bar ensures the no-lag experience while processing the screen recording, and can deliver the best resolution and frame rate to preserve the recording outputs for you. However, it is a pity that only Windows 10 and Windows 11 are equipped with this built-in recording feature. For devices running Windows 8 or earlier, you may turn to other options like VideoSolo Screen Recorder for help.
Pros:
Free built-in feature to process screen recording without watermarks;
Highly compatible with high-resolution recording without lag;
Suitable for gameplay recording with low CPU taking.
Cons:
Unavailable to customize the recording area;
Only compatible with Windows 10/11 systems;
No webcam recording feature
Unavailable to edit recordings or customize the parameters as you desire.
Best for: processing simple screen recordings with rich annotation-adding needs
Developed by Mango Apps, TinyTake is also a trustworthy free screen recorder that helps you record your computer screen or take screenshots without watermarks. With up to 1080p resolution supported, you can grasp the recordings with the best output quality without hassle. Meanwhile, TinyTake is also attractive by its rich annotation-adding feature, which enables users to add comments, shapes, arrows, or other elements to the recordings. For this reason, TinyTake is especially suitable for those who have to record online meetings or webinars, as they can take notes instantly while processing the recording for missing no important points. Don't miss this helpful program if you are seeking a reliable free screen recorder without watermark.
Pros:
No watermark will be added;
Intuitive design to control the screen recording in an easy process;
Hotkeys to process the recordings with simple taps;
Rich annotations supported adding to the recordings directly;
Available to customize the recording area as you desire;
Multiple recording modes provided.
Cons:
Unavailable to pause the recording;
Free version comes with a limitation on the size of the recordings.
Best for: Producing professional recordings without watermarks but for free.
As an open-source screen recorder, OBS Studio can bring powerful functions more than you can imagine. It is a professional screen recorder with advanced recording functions to help you produce high-quality recordings without paying a penny. Surprisingly, even all its advanced functions are provided for free, it will not add watermarks to the recordings. Plus its no-log performance to process the stable video recording, OBS can maintain the best quality for the video images. With this professional but free screen recorder without watermark, you can surely get high-resolution recording outputs at the best status as you wish!
Pros:
Complete free to use;
No time limit in recording videos;
Available to process the recording without lag;
Record screen in high resolution
Cons:
Complicated interface for new users to get started;
A bit bulky to run, which will take a higher CPU while recording;
Unavailable to adjust recording area.
Best for: Cross-platform users to record screens without watermarks
More than a powerful media player, the cross-platform program, VLC is also performing as a handy free screen recorder, which enables users to capture the desktop screen on different devices such as Windows, Mac, and Linux without watermarks added. The built-in recording feature in VLC will be quite easy to get started, and you don't need to install an extra extension to fire it up. Meanwhile, VLC doesn't set any limitations in using the feature. Thus, you can record video and sound with no time limit. Although the output quality would be a bit lower, there are still many users choosing it.
Pros:
Free to use;
Cross-platform supported;
Hands-on experience recording screens within the software;
No time limit set;
No watermarks would be added.
Cons:
The output quality would be a bit lower;
Unavailable to customize the recording area;
No output settings to adjust the quality.
Screenpal (Former: Screencast-O-Matic)
Best for: Processing all types of screen recording without watermarks at no-lag performance and more provided built-in features.
More than a simple screen recorder, Screenpal (formerly named Screencast-O-Matic) provides all-rounded features to record computer screen activities and helps you create awesome video clips to export within very handy manipulation. When Screenpal offers its functions with the free trial, you can record your screens across platforms without any charge. Don't worry getting annoyed watermarks! Screenpal will not add them to your recordings to affect the video streaming later on. Therefore, if you are seeking a multifunctional free screen recorder without watermark, Screenpal will be a rational option.
Pros:
All-rounded features provided to record, edit, and create personalized video clips;
Free trial available to record screens without watermarks;
Smooth recording process to ensure original definitions exporting recordings;
Cross-platform supported.
Cons:
Bulky app which would get stuck sometimes;
Some features would be locked under the free trial period.
Best for: Chrome users who desire a browser-based screen recorder without installing extra software
For Chrome users, another online free screen recorder you are able to try is Screencastify. Simply by adding this extension to your Chrome browser, you can start the screen recording at any time without software installation required. This online screen recorder will also deliver multiple recording modes for you to select, and there are some simple editing tools provided for you to customize the recordings to make them better as you desire.
More importantly, even though it is a free tool, it won't add watermarks to the recordings! But pay attention that the free users are only allowed to record each video for up to 30 minutes unless you upgrade to bypass it.
Pros:
Multiple recording modes provided;
Simple editing tools equipped;
No watermarks added;
Easy to get started;
Area selection available;
No lag recording ensured.
Cons:
Recording duration limit exists under the free version;
Few parameter settings available for adjustment.
Best for: Recording screen with audio through easy-using manipulation
With a clear main feed designed, Icecream Screen Recorder can be an easy-using screen recording program with multiple recording modes provided to capture desktop screens in easy manipulation. When the program offers free trial to capture screens, it won't add any watermark to the recordings, affecting the local streaming experience. Users have adopted this recorder in different life scenarios to serve their businesses, studies, and life activities. As a powerful free screen recorder, Icecream Screen Recorder can be used to capture all sorts of on-screen content with no restriction at all.
Pros:
Easy-using recording functions and clear controlling panel;
Capable with screen capturing under different life scenarios;
Free version is provided;
Instant annotations adding available;
Real-time share feature equipped.
Cons:
Subscription required to access all functions;
Limited editing features.
VSDC Free Screen Recorder
Best for: Windows PC users to record screen without watermarks and export with the best 4K UHD definition.
Last but not least, as one of the best free screen recorders for Windows 10 and other Windows systems, you shall not miss VSDC Free Screen Recorder, which will not insert any watermark to the recordings. Its easily-designed main feed also helps facilitate easier screen recording manipulation on desktops, and the best resolution in 4K UHD will ensure exporting the recordings without any charge! Even for creating simple video tutorials, VSDC Free Screen Recorder can function to help!
Pros:
No watermark added to recordings;
Multiple recording modes available;
Best definition to save recordings in 4K UHD;
Built-in editor to create video tutorials with easy manipulation.
Cons:
Only MP4 provided as the output format;
Unavailable to be installed on Mac computers.
Comparison Among the 10 Best Free Screen Recorders Without Watermark
After reviewing these top 10 free screen recorders without watermark, compare them through the chart below and sort out the most rational option for your screen capturing works later on:
| | | | | | | | |
| --- | --- | --- | --- | --- | --- | --- | --- |
| Product | No Watermark | No Time Limit | No Lag | Area Selection | Free Trial | Quality | Editing Tool |
| VideoSolo | √ | √ | √ | √ | √ | High | √ |
| QuickTime Player | √ | √ | √ | √ | √ | Good | × |
| Windows Game Bar | √ | √ | √ | × | √ | High | × |
| Tinytake | √ | × | √ | √ | × | Good | √ |
| OBS | √ | √ | × | × | √ | High | √ |
| VLC | √ | √ | √ | × | √ | Low | × |
| Screenpal | √ | √ | √ | √ | √ | Good | × |
| Screencastify | √ | × | √ | √ | √ | Good | √ |
| Icecream Screen Recorder | √ | × | √ | √ | √ | Good | √ |
| VSDC Free Screen Recorder | √ | √ | √ | √ | √ | High | √ |
After walking through these 10 best free screen recorders without watermark, you get more options to capture the screen freely and save your expense. As they all deliver both advantages and downsides, you can compare them carefully and select the best option for yourself to facilitate higher productivity while processing screen recordings on desktops!